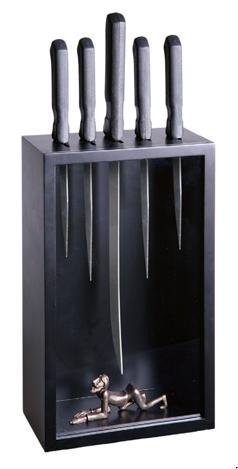 Pity the poor little dude at the bottom of this knife cabinet, barely getting out of the way of the longest knife. This 11.5-inch mini-cabinet holds a variety of knives that you supply yourself, the longest one with a 9-inch blade. Get a 9.5-inch blade to really put the hurt on the poor little guy.
He must be related to that poor son of a bitch doing time as the Voodoo Knife Holder.

Who needs a
pierced-head knife-block, or a pierced voodoo doll knife-block, when you can have a man-in-mortal- terror-cowering- from-your-knives knife-block?
Inspired by the Sword Cabinet illusion beloved by magicians, this novel knife holder features a crouching figure behind glass. Slots on the top hold 5 knives of varying widths and lengths, from a paring knife to a chef's knife with 9" blade. Cabinet is MDF with a black finish. 7 ¼" W x 11 ¾"H x 4"D. Knives not included. Exlcusive to our company.